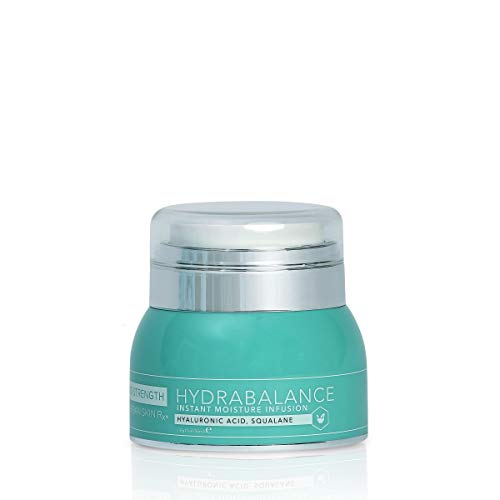 Urban Skin Rx HydraBalance Instant Moisture Infusion | Luxurous, Fragrance-Free Formula Provides Intense Hydration and a Youthful Looking Glow, Formulated with Squalane and Hyaluronic Acid | 1.69 Oz
Brand: Urban Skin Rx
Features:
ABOUT THE PRODUCT: The Urban Skin Rx HydraBalance Instant Moisture Infusion provides the skin with hydration and a youthful looking glow. This luxurious, opaque moisturizer is fragrance-free and absorbs quickly, leaving skin feeling intensely hydrated.
WHY YOU NEED THIS: Formulated with Squalane and Hyaluronic Acid, the HydraBalance Instant Moisture Infusion provides an intense surge of moisture for a youthful looking glow. Ideal for those with dehydrated or dry skin, rough texture, aging concerns, or anyone looking for more hydration.
HOW TO USE: Dispense 1-2 pumps and apply to clean skin. Use 1-2 times per day in the morning and/or evening. Can be applied after cleansing or after the application of toning or treatment pads, serums, or gels.
CAREFULLY FORMULATED: This intensely hydrating cream is powered by Hyaluronic Acid and Squalane. This powerful formula protects and smooths skin while minimizing the appearance of free radical damage. The result is a moisturized, glowing complexion.
ABOUT US: Urban Skin Rx, an unparalleled line of skincare products for diverse skin tones, was developed by Rachel Roff, a highly successful licensed medical aesthetician, laser technician and founder of one of the country's first medspa and laser centers specializing in darker skin tones. After noticing an inequality in diversity within the skincare industry, she's spent years formulating high-performance products designed to address the most common concerns of people with melanin-rich skin.
Details: HydraBalance Instant Moisture Infusion is a lightweight, non-pore clogging moisturizer powered with Hyaluronic Acid and Squalane to provide the skin with intense hydration and a youthful glow. Its powerful formula protects and smooths skin while minimizing the appearance of free radical damage. 1.69 fl oz Who Should Use Anyone with dehydrated/dry skin, rough texture, aging concerns or anyone looking for more hydration. Who Shouldn't Use There are no restrictions on who should use this product. How It Looks/Smells/Feels This luxurious, opaque moisturizer is fragrance free and leaves the skin feeling intensely hydrated. Money Back Guarantee! Click here for details