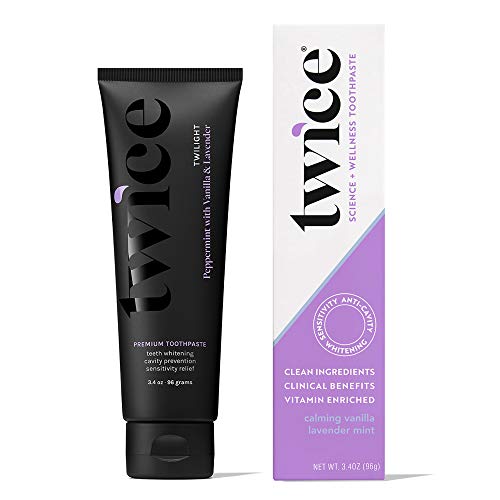 Twice Toothpaste Sensitive Teeth Whitening with Cavity Protection - SLS Free Toothpaste with Fluoride for Tooth Remineralization - (Calming Vanilla Lavender Mint) (1-Pack)
Brand: TWICE
Features:
COMBINING SCIENCE + WELLNESS - Our cavity prevention toothpaste brings together scientifically proven, effective oral health and enamel repair ingredients with vitamins, aloe vera and antioxidants. We created the best toothpaste for adults and children alike.
A WHITE, BRIGHT SMILE WITHOUT THE SENSITIVITY - Created by top celebrity dentist and packed with scientifically proven ingredients for glistening white teeth. Twice is especially helpful with teeth whitening for sensitive teeth.
THE BEST TASTING TOOTHPASTE - Like nothing you've tried before - a unique blend of a calming vanilla lavender mint for absolute fresh breath.
CRUELTY-FREE VEGAN TOOTHPASTE - Twice sugar free toothpaste is always Non-GMO, SLS Free (sodium lauryl sulfate free), Paraben Free and never tested on animals (Leaping Bunny Certified). Recyclable Eco friendly toothpaste packaging.
TWICE'S VISION: Clean and effective toothpaste options that make oral health and tooth whitening easy, effective and affordable. No fads, false claims or pseudoscience, just a healthy toothpaste that really works! With your purchase of Twice 10% of all profits will go to funding oral care missions around the world.
Details: Dos veces nació con un propósito: ayudar a todos a descubrir el poder de su sonrisa. En 2015, los hermanos Julian y Cody Levine se unieron a Lenny Kravitz y a un equipo de dentistas apasionados en un viaje que cambiaría sus vidas. ¿Su misión? Proporcionar atención bucal de servicio completo gratuito a una comunidad de personas sin acceso adecuado a los servicios de salud bucal. Dejando el viaje inspirado, decidimos producir productos de cuidado bucal que hagan una sonrisa saludable accesible a todos. Sentíamos la necesidad de transformar la forma en que todos cuidamos nuestros dientes, en nuestra propia comunidad y más allá. Nos fuimos decididos a hacer una sonrisa saludable accesible a todos: creando un producto que refleje la belleza, la salud y la confianza que encarnan las nuevas sonrisas de nuestros pacientes, luego asegurándonos de que el producto devolviera a la causa que lo inspiró todo. A través de años de investigación, desarrollo y colaboración enfocada con expertos de la industria, pudimos dar vida a nuestra visión. Nuestro objetivo era volver a imaginar el cepillado dos veces al día creando una experiencia que la gente realmente esperaría —cada mañana y cada noche. Al evolucionar el cepillado en un ritual en lugar de una tarea, creamos dos veces: la primera pasta de dientes en una misión, la única pasta de dientes que desbloqueará el poder de las sonrisas del mundo.
EAN: 0854679008016
Package Dimensions: 6.8 x 1.7 x 1.7 inches