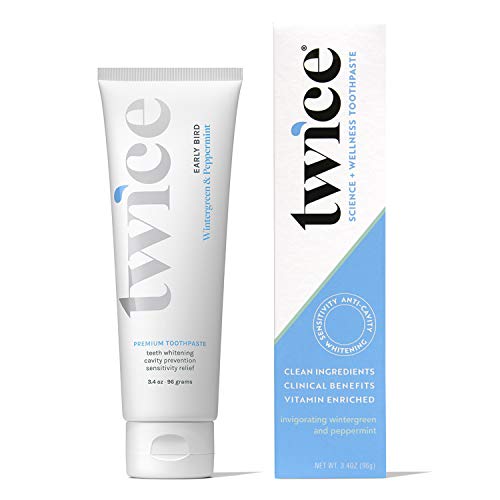 Twice Toothpaste - Clean Oral Care - Sensitive Teeth Whitening Toothpaste - SLS Free Toothpaste with Fluoride and Cavity Protection - (Wintergreen and Peppermint Toothpaste) (1-Pack)
Brand: TWICE
Features:
COMBINING SCIENCE + WELLNESS - Our cavity prevention toothpaste brings together scientifically proven, effective oral health and enamel repair ingredients with vitamins, aloe vera and antioxidants. We created the best toothpaste for adults and children alike.
A WHITE, BRIGHT SMILE WITHOUT THE SENSITIVITY - Created by top celebrity dentist and packed with scientifically proven ingredients for glistening white teeth. Twice is especially helpful with teeth whitening for sensitive teeth.
THE BEST TASTING TOOTHPASTE - Like nothing you've tried before - a unique blend of an invigorating wintergreen and peppermint for absolute fresh breath.
CRUELTY-FREE VEGAN TOOTHPASTE - Twice sugar free toothpaste is always Non-GMO, SLS Free (sodium lauryl sulfate free), Paraben Free and never tested on animals (Leaping Bunny Certified). Recyclable Eco friendly toothpaste packaging.
TWICE'S VISION: Clean and effective toothpaste options that make oral health and tooth whitening easy, effective and affordable. No fads, false claims or pseudoscience, just a healthy toothpaste that really works! With your purchase of Twice 10% of all profits will go to funding oral care missions around the world.
Details: Twice was born with a purpose: to help everyone discover the power of their smile. In 2015, brothers Julian and Cody Levine joined Lenny Kravitz and a team of passionate dentists on a trip that would change their lives. Their mission? To provide free full-service oral care to a community of people without proper access to oral health services. Leaving the trip inspired, we decided to produce oral care products that make a healthy smile accessible to everyone. We felt the need to transform how we all take care of our teeth—in our own community and beyond. We left determined to make a healthy smile accessible to everyone: by creating a product that would reflect the beauty, health and confidence embodied by the new smiles of our patients, then making sure that product gave back to the cause that inspired it all. Through years of research, development, and focused collaboration with industry experts, we were able to bring our vision to life. Our goal was to re-imagine brushing twice-a-day by creating an experience people would actually look forward to—every morning and every night. By evolving brushing into a ritual rather than a chore, we created Twice: the first toothpaste on a mission, the only toothpaste that will unlock the power of the world's smiles.
EAN: 0854679008009
Package Dimensions: 6.7 x 2.0 x 1.7 inches