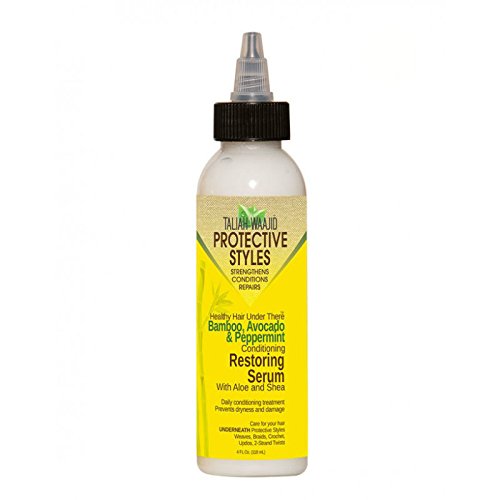 TALIAH WAAJID Healthy Hair Under There Bamboo, Avocado And Peppermint Conditioning & Restoring Serum 4 OUNCE
Brand: Taliah Waajid
Features:
Taliah Waajid Restoring Serum
Details:
Stimulates Scalp, Strengthens Hair.
Restores & Maintains Hair's Natural Strength.
Preserves Moisture Balance.
Helps Soothe Tight Scalp.
Taliah Waajid Protecive Styles Bamboo Avocado Peppermint Conditioning Restoring Serum is an herbal-infused, super-charged, oil-free daily conditioning treatment with nourishing moisturizers and fortifying strengtheners to support optimal hair conditioning and scalp stimulation while wearing your favorite protective style. Designed to restore the scalp's natural oil balance and support stronger, healthier hair, Healthy Hair Under There™ features nourishing avocado to support daily conditioning of hair and scalp without buildup and moisturizing shea butter to soothe tightly held styles. Peppermint helps stimulate the blood circulation and oxygen flow often lacking while hair is in an extended protective style. Provided in a convenient on-the-go size with targeted applicator for easy use.
Use DURING protective styling to:
Infuse hair under protective styles with moisture and strength.
Maintain hair health while wearing a protective style.
Support growth retention with moisture and nutrients - 4 oz.