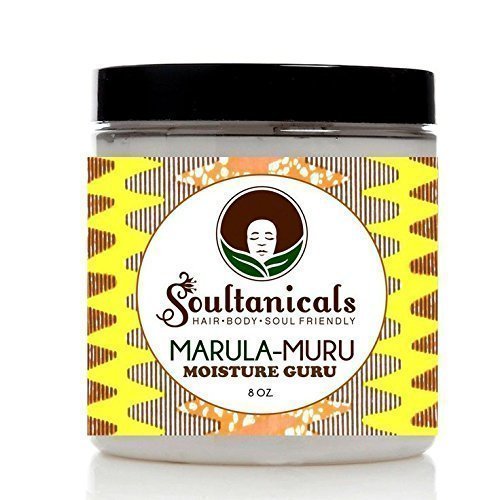 Soultanicals Marula-Muru Moisture Guru 8oz
Brand: Soultanicals
Features:
Nourishing Hair Cream
Scented with Banana and Cocoa
Details: Known as some of the "world's best ingredients for Afro-ethnic hair" (one scoop and you'll know why), this rich self-prophesizing hair cream nourishes deep within the strand with hydrating murumuru butter, moisture-boosting marula oil and strand smoothing pracaxi oil. Especially loved by Dry, Coarse Afro, Coily Hair in need of Maximum Nourishment! Marula-Muru Moisture Guru is lighly scented with a yummy banana and cocoa fragrance! HOW TO USE: On dry, parched hair, Marula-Muru Moisture Guru adds moisture and nourishment from scalp to ends; melting in and keeping hair supple for days at a time. On damp hair - Marula-Muru Moisture Guru is excellent to help lock in moisture. ABSORBING BOTANICAL INGREDIENTS: Distilled Water Botanically Infused with Chamomile, Calendula, Nettle & Sage, Organic Aloe Vera Juice, Vegetable Glycerine, Behentrimonium Methosulfate, Cetyl Alcohol, Hydrogenated Olive Oil, Olive Oil, Olive Oil Unsaponifiables, Agave Nectar, Meadowfoam Seed Oil, Organic Extra Virgin Coconut Oil, Castor Oil, Pro Vitamin B5, Murumuru Butter, Flaxseed Gel, Pracaxi Oil, Cocoa Butter, Marula Oil, Olive Squalane, Natural, Fragrant Oil Blends, Potassium Sorbate, Citric Acid, an extra scoop of soulistic flava & LOVE!
UPC: 868317000126
EAN: 0868317000126