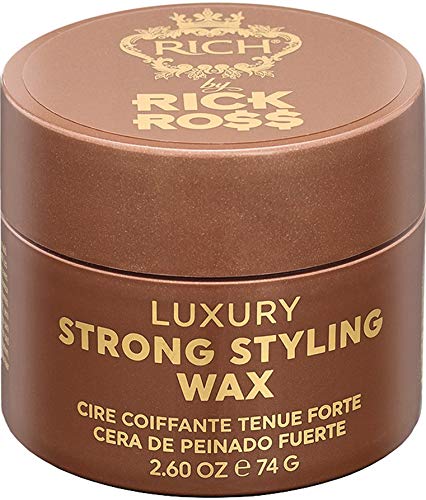 RICH by Rick Ross Luxury Strong Styling Wax for Men with All Hair Types - Hydrating & Rejuvenating - Strong Hold & Smooth Matte Finish, No Grease, No Shine, 2.6 Oz
Brand: RICH
Color: Brown
Features:
STRONG, WORKABLE HOLD: Winners are strong. So is RICH by Rick Ross Luxury Styling Wax. Delivers a strong, textured hold that will last throughout the day while being flexible enough to rework at your command.
SMOOTH MATTE FINISH: Maintain the strong hold you desire without any of the sticky residues. Designed to deliver a long-lasting matte finish, no grease, no shine.
REJUVENATING INGREDIENTS: Our Wax Contains Caviar Extract, and Champagne Extract to hydrate hair and provide essential proteins and antioxidants to improve hair nourishment while maintaining a flawless hold.
IMPROVE DRY & DAMAGED HAIR: Rejuvenating champagne extract delivers essential proteins and antioxidants to improve dry & damaged hair.
PROTECT YOUR HAIR: A light moisture-retaining film protects the hair against external effects such as UV, dehydration, and pollution.
Binding: Health and Beauty
Release Date: 20-06-2019
Details: RICH by Rick Ross Luxury Styling Wax delivers a strong, textured hold that will last throughout the day while being flexible enough to rework at your command. Maintain the strong hold you desire without any of the sticky residue. Delivers a long-lasting matte finish, no grease, no shine. Winners are strong. So is RICH by Rick Ross Luxury Styling Wax. Features: •Ultra-moisturizing hemp seed oil to hydrate and improve nourishment to hair and scalp. •Fortifying caviar extract to moisturize and provide protecting anti-aging antioxidants to hair and scalp. •Rejuvenating champagne extract delivers essential proteins and antioxidants to repair damaged hair and help reduce hair loss. Be sure to cop the other products to complete our nine-piece line so you can feel and looks as fresh as the boss Rick Ross himself
EAN: 0856117007049
Package Dimensions: 2.7 x 2.7 x 2.4 inches