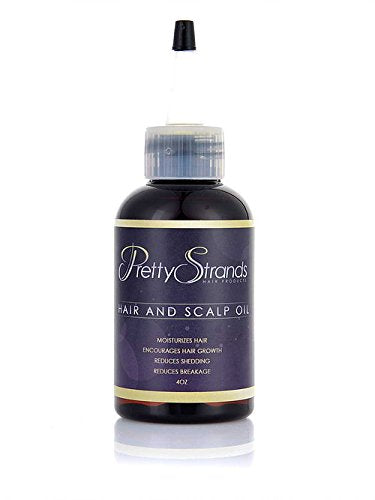 Pretty Strands Hair and Scalp Oil 4oz
Brand: Pretty Strands
Features:
All Natural Ingredients: Jojoba Oil, Castor Oil, Red Palm oil, Almond Oil, Rosemary, Vitamin E
Qualities: Softens • Adds Protection • Promotes Growth • Revitalizes • Seals Moisture
Publisher: Pretty Strands
Details: Pretty Strands hair oil is made to repair and promote hair growth. With: Coconut oil, Olive oil, Red palm oil, Jojoba oil, Almond oil, Castor oil, Lavender oil, Rosemary oil, Vitamin F Not just made for ethnic hair, but ALL HAIR TYPES.....thick, natural, 1A to 4Z hair types! Pretty Strands Hair & Scalp oil moisturizes hair and encourages hair growth. Created with safe and natural oils such as Coconut Oil, Olive Oil, Red palm oil, and Jojoba Oil to repair, strengthen and making every hair strand pretty! This anti-shedding and growth oil reduces breakage as it rejuvenates and moisturizes hair. Gentle enough for daily use and powerful enough that it may be used as a hot oil treatment. Add this product to your healthy black hair regimen and watch as your hair transform into strong, healthy and pretty hair! Gentle enough for daily use Moisturizes hair Hot oil treatment Encourges hair growth Reduces Shedding Reduces Breakage Pretty Strands hair oil contains beneficial nutrients like Vitamin E, which have many positive effects when applied to damaged hair. Whether your hair is thick or damaged, this is the best ethnic hair oil online! It's proven results are the reason people are using Pretty Strands for shiny, pretty hair. Directions: Apply 2-4 drops with finger tips, massaging in scalp and ends of hair as needed.
UPC: 619775434349
EAN: 0619775434349