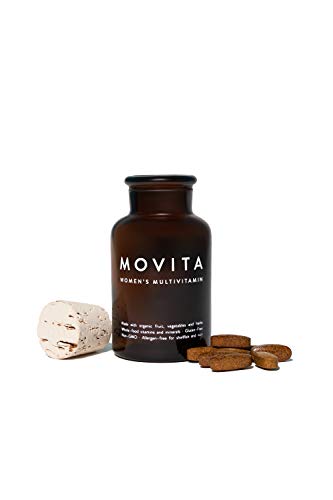 Movita Women's Daily Multivitamin - Whole Foods, Vitamins, and Minerals - Organic, Gluten-Free, & Non-GMO - Monthly Supply (Glass)
Brand: Movita
Features:
30 Day Guarantee - Try our whole food, organic vitamins for 30 Days. If you're not convinced they're the best vitamin available we'll give you your money back. New customers use promo code MOVITA25 to save 25%
Expertly formulated to support women's unique health needs, including breast and reproductive health, bone density, heart health, digestion, energy and metabolism, immune function, stress reduction, and more.
Naturally derived: Patented-fermentation process creates natural food rich nutrients with 60X higher bioactivity than conventional vitamins. This full prebiotic and probiotic fermentation also removes toxins and oxidants, creating a purer tablet that delivers more anti-oxidants than other conventional vitamins
Non-GMO, whole food based source of vitamins and minerals. Certified as gluten-free and allergen-free for shellfish and nuts; meat-free, dairy-free and egg-free. Made with certified organic fruits, vegetables and herbs
Correct Dosage of 19 Essential Vitamins and Minerals including Vitamins A, B-1, B-2, B-6, B-12, C, D3, E, K-1, as well as iron, zinc, selenium, manganese, chromium, niacin, folic acid, and biotin. Passionately created by our founder Tonya Lewis Lee and made in an FDA registered and organically certified facility.
Binding: Health and Beauty
Details: Start your journey to your best and most robust health
Movita is an exceptional gluten-free, non-GMO whole-food supplement made with organic fruits, vegetables and herbs. It is specifically formulated to support optimum health for women. All ingredients are converted into a whole food formulation by a patented culturing process that removes impurities and leaves behind a food-based vitamin or mineral.

Don't be fooled by claims from other vitamins. Unlike other supplements, Movita is not made from chopped-food ingredients that are then touted as a whole-food product. Our vitamins and minerals are literally individually grown and cultured in a state-of-the-art dual culturing process that binds the vitamins and mineral to glycoproteins. This glycoprotein matrix (GPM) provides nutrients bioavailable and effective form.

Studies have shown this process creates a vitamin with 60x higher bioactivity compared to conventional vitamins. It also allows slow release of nutrients, making it easier to digest and absorb vitamins and minerals; GPM increases absorption of Zinc by over 240% and vitamin B6 by 63%. It also provides better anti-oxidants by taking oxidation out of minerals that are included in the vitamin (others don't)

The result is a purer, more easily digested, and body-ready whole food formulation that is gentle enough to be taken on an empty stomach.

About Us

Movita was founded by acclaimed author, producer, activist, and entrepreneur, Tonya Lewis Lee. Ms. Lee joined forces with former Unipharm CEO, Robert Sires, to create a premium product to aid women on their journey to their best and most robust health. Movita is proudly made in the USA.
EAN: 0860962000216
Package Dimensions: 6.7 x 4.4 x 3.4 inches