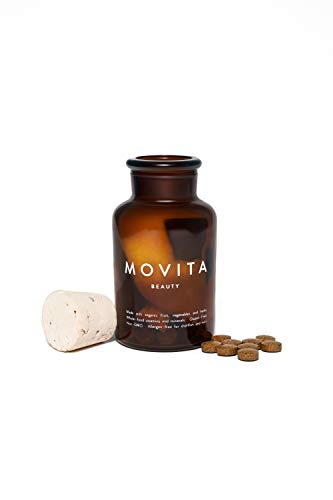 Movita Beauty - for Healthy Hair, Skin, Nails, Bottle of 30 Tablets - Certified Organic, Gluten-Free, Non-GMO
Brand: Movita
Features:
ONLY THE FINEST: Non-GMO, whole food based source of vitamins and minerals. Certified as gluten-free and allergen-free for shellfish and nuts; meat-free, dairy-free and egg-free. Made with certified organic fruits, vegetables and herbs
UNIQUE PROCESS: Naturally derived: Patented-fermentation process creates natural food rich nutrients with 60X higher bioactivity than conventional vitamins. This full prebiotic and probiotic fermentation creates a purer tablet that delivers more anti-oxidants than other conventional vitamins
NO WORRIES: Free from gluten, dairy, meat, egg and allergen free for shellfish and nuts
DID YOU FORGET TO TAKE IT?: Can be taken with or without food. Take 2 tablets daily
MOVITA: Passionately created by our founder Tonya Lewis Lee and made in an FDA registered and organically certified facility
Details: Movita Beauty - for Healthy Hair, Skin and Nails, Bottle of 30 One a Day Tablets - Designed specifically to support healthy hair, skin and nails, Movita Beauty was formulated with thought of your needs. Active ingredients include Q10 (essential for cell growth and maintenance), Biotin (crucial for healthy metabolism and creating important enzymes that support hair and nails strengthening) and turmeric powder (with curcumin as its most active component, having powerful anti-inflammatory and antibacterial effects and being a very strong antioxidant). Movita Beauty is made using proprietary probiotic fermentation process making it easy to digest even on an empty stomach, ensuring greater rates of absorption. It's made with organic ingredients, Non-GMO, Gluten Free for shellfish and Nuts and One-A-Day.

Ingredients: Specially formulated fruit, vegetables, and herbs organic blend includes:Amla Powder, Hemp Seed Protein, Turmeric, Aloe, Peppermint Leaf, Coriander Seed, Artichoke Leaf, Schizandra Berry, Maca Root, Rosemary Leaf, Blueberry, Blackberry, Broccoli, Prune, Rosehip Seed, Lavender, Green Tea.

Other Ingredients: Gum Arabic, Brown Rice Concentrate, Coating (Maltodextrin, Sunflower Lecithin, Palm Oil, Guar Gum)

Fermented Ingredient (Fermentation media: Gum Arabic, Maltodextrin, Active Yeast, Orange Peel Powder, Carrot Powder, Alfalfa Powder, Nutritional Yeast, Soy Flour, Papain, Bromelain, Lactobacillus acidophilus, L. rhammnosus, Bifidobacterium bifidum)

About Us: Movita is a great vitamin and we're passionate about it. Our vision at Movita is a world full of healthy, vital women living their best lives. We want to provide tools to help women meet their wellness goals and lead healthful lifestyles.
EAN: 0860962000230
Package Dimensions: 6.7 x 4.3 x 3.3 inches