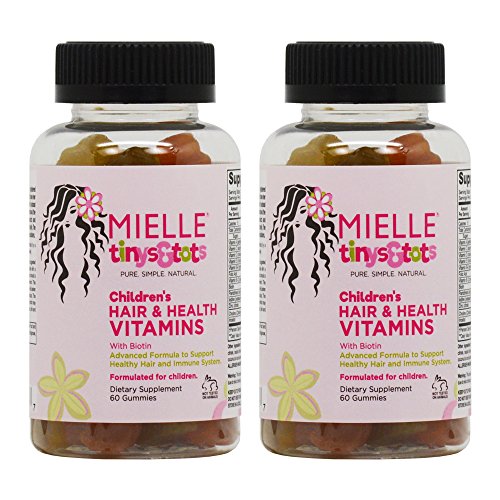 Mielle Tinys & Tots Children's Hair & Health Vitamin with Biotin 60 Gummies "Pack of 2"
Brand: Mielle Organics
Details: THE VERY FIRST CHILDREN'S HAIR FORMULA - Children need the essential vitamins and nutrients to have healthy hair growth and a healthy immune system. With our children's formula we have enough of the essential vitamins that are essential for immune support and healthy hair. Vitamin A is an essential vitamin for faster hair growth. Folic acid renews the cells that aid in the growth of hair. Biotin is effective for hair growth but just enough for your little ones at a safe effective dose. Inositol combined with choline is effective with helping with hair loss, by increasing the rate of growth and strengthening the strands as they grow. Our Children's hair and health formula is formulated to support children's immune system and support healthy hair. Causes of hair loss in children are compulsive pulling or twisting of hair, hair loss disorders brought on by emotional or psychological distress, hormonal disorders and nutritional disorders. There are steps that you can do to help your child's hair grow back. The first step is to take Mielle Organics children's hair and health formula. We have a good recommended dose of vitamin A, zinc, folic acid and biotin. Along with other minerals to support a healthy immune system. The next step is to use Mielle Organics Mint Almond Oil to help stimulate circulation in the scalp and help prevent breakage and shedding. Children are very resilient because they are young and they will grow back their hair after some time. Develop a healthy regimen for your child so they can too have healthy hair.
UPC: 647679208575
EAN: 0647679208575