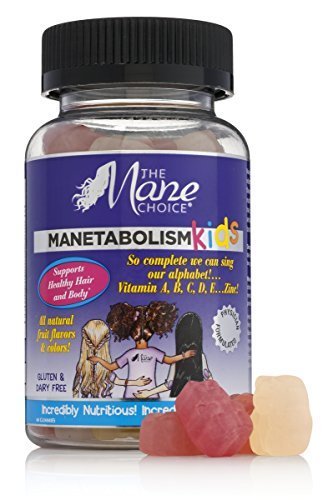 Manetabolism Kids 60 Gummies
Brand: The Mane Choice
Features:
Grows hair faster, thicker, and healthier.
Because a healthier inside shows from the outside!
Details:
Tasty all natural, fruit flavored, gluten and dairy free healthy hair growth gummies. Manetabolism KIDS aids in a comprehensive approach to growing healthy hair and keeping the little ones healthy at the same time. Everyone, including our children need essential vitamins and nutrients to keep our bodies and hair healthy.
Our complete children gummies promote healthy hair, nails and skin by supplying nourishment to the body's cells and by directly targeting hair follicles, nail beds and skin layers. In addition, it also helps to strengthen the immune system.
Manetabolism KIDS brings out the healthy hair in children 2 and up!
Quantity: 60 gummies per bottle.
UPC: 850093005204
EAN: 0850093005204