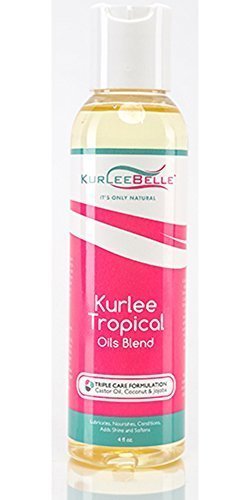 Kurlee Belle Kurlee Tropical Oils Blend 4oz
Brand: Kurlee Belle
Features:
3 in 1: Pre poo, Hot Oil Treatment and Daily Shine Enchancer
Promotes hair growth, shine and de-frizzes
Made from Castor Oil, Jojoba, Coconut, Moringa, Argan, Avocado
Lightweight
Great for everyday use
Details: Kurlee Tropical Oils Blend is a lubricating blend of essential tropical oils that is formulated to restore dry, damaged hair. Castor Oil is an emollient that contains fatty acids and encourages hair growth. Coconut oil strengthens and deeply moisturizes. Jojoba oil moisturizes and softens. Avocado Oil contains essential nutrients that promote hair growth and nourishment. Argan oil hydrates and strengthens for enhanced growth. Moringa oil leaves hair feeling silky.How To Use: Hot Oil Treatment: Submerge bottle in hot water for 5 mins. Apply a generous amount to dry hair. Massage on to scalp from root to tip. Cover with plastic cap. Leave on for 5-15 minutes. Shampoo as usual. Shine Enhancer: Apply a generous amount to hair from root to tip as needed.
UPC: 086959200005
EAN: 0086959200005