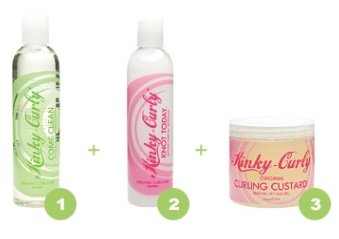 Kinky Curly Combo! (Come Clean 8oz & Knot Today 8oz & Curling Custard 8oz)
Features:
Use These 3 Products together as a System to get the Best Results
1 x COME CLEAN SHAMPOO - 8 OZ.
1 x KNOT TODAY LEAVE IN DETANGLER 8 OZ.
1 x CURLING CUSTARD STYLING GEL 8 OZ.
Publisher: Kinky Curly
Details: COME CLEAN You know all the grimy stuff you've put on your hair. Here's your chance to COME CLEAN TM . NEW & IMPROVED Formula with Phytic Acid - a natural chealating agent that removes hard water minerals such as calcium & magnesium. An all natural replacement for EDTA derived from soy & corn, it wlll soften hard water, rinse cleaner and prevent hard water buildup on your hair. Our exclusive blend of Mandarin Orange extract will gently clean your hair and scalp of dulling buildup while Sea Kelp will help maintain its proper moisture balance. This Sulfate Free shampoo is perfect for dry damaged hair and gentle enough for everyday use.///////////////////////////KNOT TODAY Essence Magazine, "Beauty Best Sellers List" 2008 KNOT TODAY TM is a creamy herbal conditioner and detangler designed to smooth the cuticle and remove knots, snarls and tangles from thick curly textured hair. After washing hair, apply KNOT TODAY TM generously and work through troubled areas with a wide tooth comb. Can be used as a regular rinse out conditioner for wavy hair or as a leave-in for thicker curlier hair types. An excellent product to use after removing braids and extensions.////////////////// CURLING CUSTARD TM gives moisture and curl definition, hold and brilliant shiny hair all in one product! It reduces bulk, defines & elongates your curls helping them to 'hang' better. CURLING CUSTARD TM will bring out the natural curl or wave pattern you never knew you had! It is an advanced botanical formula made with ALL NATURAL ingredients that nourish and strengthen the hair. Utilizing the humectant properties of the Agave Nectar, CURLING CUSTARD TM will give weight to your hair, define your curls, remove frizz, provide long lasting hold and shine without ever being greasy, crunchy or drying to your hair. This high performance product is very concentrated so a little goes a long way.
UPC: 787734554015
EAN: 0787461618233