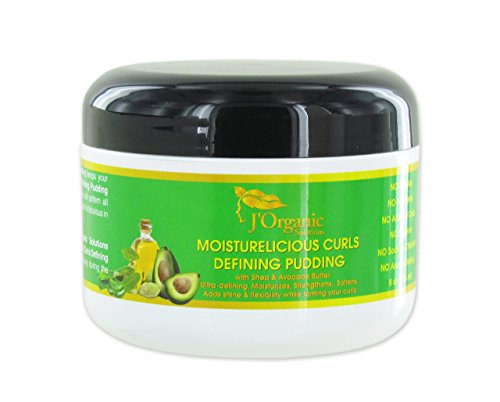 J'Organic Solutions Curls Defining Pudding (for all hair type) with Shea & Avocado Butter & more
Brand: Jorganiccare
Features:
Ultra defining, Moisturizes, Strengthens, Softens,
NO Sulfates NO Parabens NO Artificial Color NO Silicone NO Sodium Chloride NO Animal Testing
Adds shine & flexibility while taming your curls
Effortless, frizz free curls for multi-ethnic woman and girls
NATURAL & ORGANIC INGREDIENTS - Our moisturelicious curls defining Pudding are made with Shea Butter, Soy Oil, Keratin (Vegetable) Protein, Sweet Almond Oil, Avacado Oil, Aloe Vera, Tocopheryl (Vitamin E), and more..
Publisher: Johanne's Organic Solutions
Details: J'organic Solutions Moisturlicious Curls Defining Pudding keeps your curls looking and feeling luscious. Moisturlicious Curls Defining Pudding adds shine, moisture, bounce and strength to your natural curl pattern all through the day. Moisturlicious Curls Defining Pudding puts the fabulous in your curls.