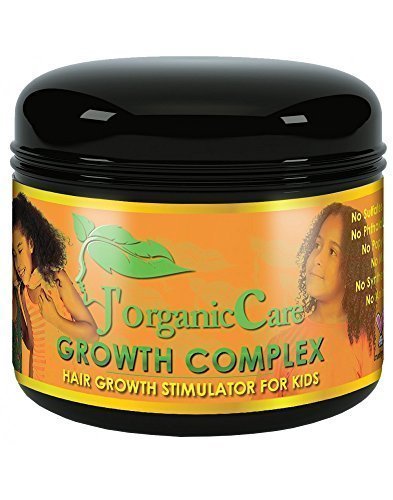 J'Organic Solutions Pomade (Hair Grease for Kids) Softer, shinier, healthier hair, with Lanolin, Sweet Almond Oil, Castor Oil & More
Brand: Jorganiccare
Features:
This Pomade Has All The Vital Nutrients Recommended To Stimulate Your Child's Hair Follicles Allowing The Hair Growth Process To Work Better And Faster. As A Result, Our Stimulate Solution Will Provide Your Child With Thicker And Stronger Hair Strands.
The GROWTH COMPLEX STIMULATOR For KIDS Is Especially Engineered To Be Lightweight And Non Sticky, It Will Leave Your Child's Hair Feeling Soft And Manageable While Looking Healthier And Shinier Unlike Most Hair Pomade In The Market.
Works Great With Our Carrot Argan Leave-In Conditioning Milk (for kids)
For ages 6 months an up ..contains natural & organic ingredients
YES HAND MADE WITH CARE.
Legal Disclaimer: THE STATEMENTS ENDORSED HEREIN HAVE NOT BEEN EVALUATED BY THE FOOD AND DRUG ADMINISTRATION. THE PRODUCTS AND INFORMATION MENTIONED ON THIS SITE ARE NOT INTENDED TO DIAGNOSE, TREAT, CURE, OR PREVENT ANY DISEASE. INFORMATION AND STATEMENTS MADE ARE FOR EDUCATIONAL PURPOSES AND ARE NOT INTENDED TO REPLACE THE ADVICE OF YOUR TREATING DOCTOR. JOGANICCARE.COM DOES NOT DISPENSE MEDICAL ADVICE, PRESCRIBE, OR DIAGNOSE ILLNESS. THE VIEWS AND ADVICE EXPRESSED BY JOGANICCARE.COM ARE NOT INTENDED TO BE A SUBSTITUTE FOR CONVENTIONAL MEDICAL SERVICE. IF YOU HAVE A SEVERE MEDICAL CONDITION, SEE YOUR PHYSICIAN OF CHOICE.
Publisher: Johanne's Organic Solutions
Details: GROWTH COMPLEX STIMULATOR for KIDS is made with 100% Pure Organic ingredients from all over the world, we let nature get the job done instead of using unnecessary harmful chemicals.