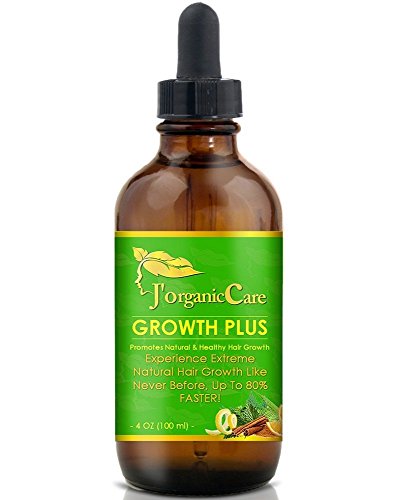 J'Organic Solutions 100% Pure Organic Hair Growth for Women | Strengthening & Rejuvenating Follicle Fuel | Promotes Healthy hair grow.. (OIL FREE)
Brand: Jorganiccare
Features:
EXTREME HAIR GROWTH UP TO 80% FASTER THAN NORMAL, THICKER AND STRONGER HAIR.THICKENS AND GROW BACK EDGES, ELIMINATE DRY ITCHY SCALP WITH 100% ORGANIC INGREDIENTS. NO SULFATES , NO PARABENS, NO PHTHALATES, NO PARABENS, NO PROPYLENE, NO GLYCOL, NO PARAFFIN, NO MINERAL OIL, NO SYNTHETIC FRAGRANCES, NO ANIMAL TESTING.
Nourish Your Scalp From Inside Out when combine our Growth Plus Serum with our Growth Plus Vitamin.Take 2 Capsule Daily Apply The Drops Throughout Your Scalp Firmly And Watch Your Hair Grow Thicker And Stronger.
checkout our customers before and after pictures. (Real happy customers no models.)
Works great with our Moisturelicious Hair Milk, Growth-Plus Strenghtening Hydrating Shampoo & Pure Argan Oil Deep Conditioning Mask
YES HAND MADE WITH CARE.
Legal Disclaimer: THE STATEMENTS ENDORSED HEREIN HAVE NOT BEEN EVALUATED BY THE FOOD AND DRUG ADMINISTRATION. THE PRODUCTS AND INFORMATION MENTIONED ON THIS SITE ARE NOT INTENDED TO DIAGNOSE, TREAT, CURE, OR PREVENT ANY DISEASE. INFORMATION AND STATEMENTS MADE ARE FOR EDUCATIONAL PURPOSES AND ARE NOT INTENDED TO REPLACE THE ADVICE OF YOUR TREATING DOCTOR. JOGANICCARE.COM DOES NOT DISPENSE MEDICAL ADVICE, PRESCRIBE, OR DIAGNOSE ILLNESS. THE VIEWS AND ADVICE EXPRESSED BY JOGANICCARE.COM ARE NOT INTENDED TO BE A SUBSTITUTE FOR CONVENTIONAL MEDICAL SERVICE. IF YOU HAVE A SEVERE MEDICAL CONDITION, SEE YOUR PHYSICIAN OF CHOICE.
Publisher: Johanne's Organic Solutions
Details: Growth Plus By J'Organic Solutions Is Formulated With Vital Natural Nutrients That Promote Healthy Thicker Hair Growth, Our oil free Vitamin Rich Hair Product Feed Your Scalp And Hair Roots Directly. Your Follicles Will Absorb This Nourishment To Produce Stronger, Fuller Hair, While Stimulating New Growth works on natural or relax hair.