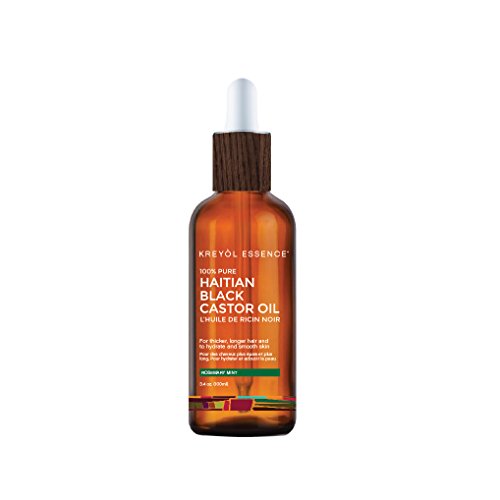 Haitian Black Castor Oil, Rosemary Mint - 100% Pure & Unrefined (Lwil Maskriti/Palma Christi) (3.4oz)
Brand: Kreyòl Essence
Features:
GROW FULLER, THICKER & LONGER HAIR - Haitian Black Castor Oil has the highest level of Ricinoleic acid and Omega-9 Fatty Acid which gives the oil its strong anti-inflammatory and anti-bacterial properties, hence combating Infections and scalp disorders and increasing Hair Growth.
EXPERIENCE LONGER EYELASHES/THICKER EYEBROWS- Haitian Black Castor Oil Is packed with omega-6 fats, proteins and vitamins, it stimulates hair follicles, boosting growth of eyelashes and thickening of eyebrows naturally over time.
PROMOTE YOUTHFUL AND CLEAR SKIN - Haitian Black Castor Oil is a safe and natural, non-comedogenic oil known to gradually heal blemishes, old scarring and rejuvenate the skin's elasticity.
MADE WITH LOVE FROM HAITI - Our Haitian Black Castor Oil is extracted using a traditional method that includes roasting, grinding and cooking the castor seeds. This unrefined process helps to retain a rich, strong flavor and color that is true to its natural state. Unrefined oils are always darker in color and richer in scent. 100% PURE - HEXANE FREE & SOLVENT FREE
REVIVE & ENERGIZE - Infused with organic peppermint and rosemary oil to encourage scalp circulation, revive skin and energize the mind.
Details: HAITIAN BLACK CASTOR OIL - 100% PURE & UNREFINED (LWIL MASKRETI & L'HUILE DE RICIN)

Haitian Black Castor Oil is extracted using traditional handmade method that retains up to 90% of its natural fatty acids including Ricinoleic and Oleic acid. Our intense moisturizing oil is loaded with Vitamin E making it an ideal natural emollient to nourish the skin, promote thick and shiny hair and longer eyelashes/thicker eyebrows. NO OTHER OIL HAS THIS COMPOSITION.

Benefits of Haitian Black Castor Oil
Grow Fuller, thicker & Longer hair
Promotes youthful and clear skin
Soften and Moisturize the body
HOW TO USE HAITIAN BLACK CASTOR OIL
Hair Growth:
Apply directly to the scalp, eye lashes and/or eyebrows. Rub in with fingers for maximum penetration of oil and to stimulate the hair follicle.
Deep Conditioner:
Add to your favorite conditioner or place in hair as hot oil treatment for 30-60 minutes with heat. For extremely damaged hair leave on overnight.
Moisturizer:
Use Haitian Black Castor Oil hot oil treatments and scalp massages to stimulate hair growth and keep your hair soft and manageable. Leave the oil in your hair overnight, covered with a plastic cap to trap heat and enhance penetration. In the morning, wash your hair thoroughly with shampoo, then style as usual. Haitian Black Castor Oil is a natural humectant it helps to draw moisture into the hair.
Skin Care:
Massage to dry skin to restore hydration and make skin feel smoother.
Body Aches:
For healing of tissues and organs soak flannel in castor oil and place in the area of pain.
HELP TO CREATE JOBS NOT HAND OUTS
Our sustainable development of Black Castor Oil is creating jobs, changing lives and reviving the agricultural sector in Haiti.
We promise that every purchase you make will have a positive and direct impact.
UPC: 859826002640
EAN: 0859826002640