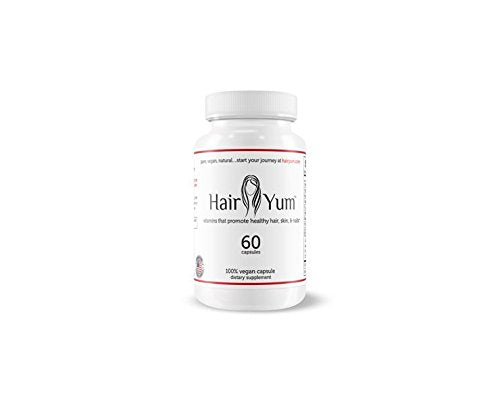 Brand: Hairyum Vegan Haircare
Features:
Vegan Hair Growth Vitamins 60 Capsules 1 Month Supply
100% Vegan
SoyFREE
GlutenFREE
CrueltyFREE
Publisher: HairYum
Details: HairYum Vegan Vitamins are specially formulated with key nutrients that support hair, skin, and nail health. Includes Folic Acid, Biotin, Vitamin C, Vitamin B6, Kale, Coconut Oil and essential vitamins that support hair healthy. No artificial colors or flavors, no preservatives and formulated for easy absorption. Yeast and gluten-free. Help your Hair Growth Thicker Longer and Healthier 100% All Natural Vegan Ingredients #1 Vegan Haircare Vitamin 60 Pills for a Full month of Treatment Stop Hair Breakage and Love your Hair!
UPC: 867528000048
EAN: 0867528000048