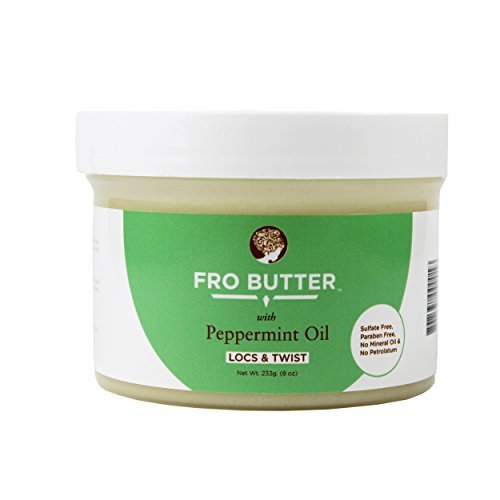 Fro Butter with Peppermint Oil Hair Treatment | Peppermint Oil, Shea Butter, Virgin Coconut & Lavender Oil, Pumpkin Seeds & Nourishing Extracts | For Dry & Itchy Scalp, Coarse & Dry Hair, Men & Women
Brand: Fro Butter
Features:
SILKY SOFT HAIR TO THE CORE: This hair butter is infused with high quality extracts, nutrients, powerful oils and nourishing vitamins. No more tangled, curly hair. The hair oil consists of Shea Butter, Pumpkin Seed Oils, Virgin Coconut Oil, and more!
GOOD FOR ALL AGES: Struggling with dandruff, dry and itchy scalp? If so, then this amazing hair butter with peppermint oil is here for you. Provides relief with just a few drops. Ideal for children of all ages!
WON'T IRRITATE THEIR SKIN: Forget about cheaply made and harsh hair products and invest in this natural hair butter. It is sulfate and paraben-free and it has no mineral oils or Petrolatum unlike others.Absolutely safe for sensitive skin!
Details:
Finally, The Most Effective & Natural Hair Detangler With Peppermint Oil Has Been Released!
Fed up with dry, course hair?
Want to relieve your kid from head itching and dandruff?
Allergic to fragrances?
If you are nodding, then you should keep on reading. We have the ultimate hair butter formula for you!
Fight Dryness, Itching & Dandruff, Soften & Strengthen Your Hair With Fro Butter Therapy!
Combining only natural oils,nourishing extracts and vitamins and no oily build up afterwards, this hair butter is here to accommodate even your most demanding needs.
It will gently condition, soften your hair, while strengthening it at the same time. The peppermint oil rejuvenates your scalp and stimulates hair follicles with a cool refreshing tingle
Forget about dandruff and curliness with just a few uses per week. Just apply to scalp and massage or use it as a hair moisturizer.
Here's Why This Fro Butter Product Is The Right One For You:
Premium quality hair butter for children of all ages.
Rich in Shea Butter Oil, Virgin Coconut, Carrot Seed and Lavender Oils, and Pumpkin Seed Oils as well.
Detangle curly, wild hair, soften and relieve from dandruff and head itching!
Get silky soft hair, hydrated and moisturized locks, and untangled hair from day one!
Hypoallergenic advanced hair formula. For curly, colored, straight, long, short, and fragile hair!
What are you waiting for? Get yours today, while supplies last!
Cool mentholated healing for dry itchy and flakey scalp. Fragrance free 8oz Jars Ingredient List Organic Shea Butter, Organic Vegetable Glycerin, Organic Pumpkin Seed Oil, Peppermint oil, Carrot Seed Oil, Organic Virgin Coconut Oil, Lavender Oil. Peppermint enriched formula to heal a dry itchy and flaky scalp
UPC: 868531000018
EAN: 0868531000018