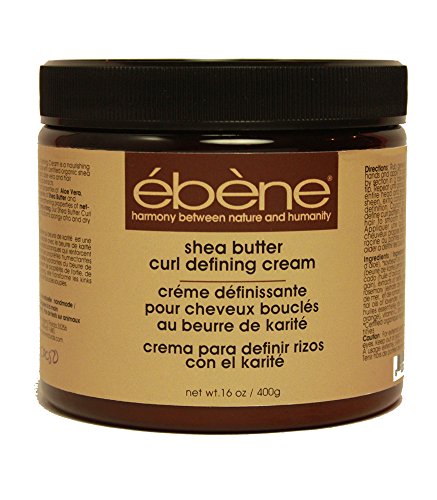 Ebene Shea Butter Curl Defining Cream 16 oz
Brand: EBENE
Features:
Long lasting curl definition. Hair has bounce, sheen, and is soft to the touch.
Free of petroleum, beeswax, mineral oil, parabens phthalates, silicones and articicial colors.
Super hydrating curl enhancing gel. Moisturizes as it defines super kinky and coily hair.
Lends a soft hold. Does not flake. Non cruncy. Not tacky. Not oily.
Details: Utilizing the humectant properties of aloe vera and agave, conditioning properties of organic virgin coconut oil, our super hydrating creamy gel moisturizes while defining curls to super kinky and coarse hair. Hair is transformed into perfect loops and wringlets, with a medium, non crunchy, non unravelling, non flaking hold while lenghtening and defining. Transform your hair into soft beautiful spirals. Hair has bounce, sheen, feels soft to the touch. Works on all types of curls, from super loose to super tight and coily