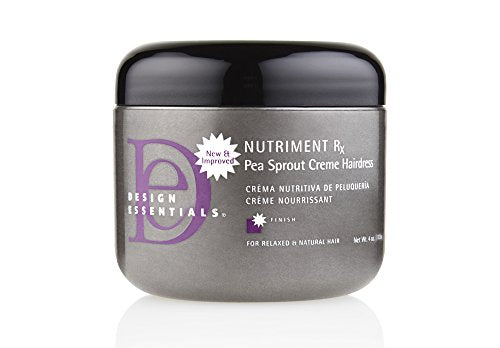 Design Essentials Nutriment Rx w/Pea Sprout, Daily Moisturizing Creme Hairdress for Weak, Damaged Hair from Thermal Styling or Chemical Treatments-4oz.
Brand: Design Essentials
Features:
Vitamin enriched to strengthen hair weakened by chemical and thermal styling
Revitalizes dull, dry, brittle hair
Imparts a soft, silky finish and exceptional shine
Lubricates dry scalp
Release Date: 2017-02-01
Details: Eliminate Dryness & Restore Balance: Dry hair and scalp should be a thing of the past after using Design Essentials New and Improved NUTRIMENT Rx Pea Spout Crème Hairdress! This lightweight daily moisturizer enriched with essential vitamins and Pea Sprout can be used to lubricate the hair and scalp to eliminate dryness, restore moisture balance, and strengthen and stimulate hair growth. Great for revitalizing hair that has been weakened by chemical or thermal styling.


Excellent For Daily Use: Due to its lightweight formula, NUTRIMENT Rx Pea Sprout Crème Hairdress can be used daily without worrying about product build-up on the scalp or weighing down your tresses. As a result, daily benefits include hair that is soft, silky, and exceptionally vibrant! DE Professional Night Regimen Tip: Before heading to bed, apply a small amount of NUTRIMENT RX Pea Sprout Crème to hands and emulsify. Smooth throughout hair and wrap hair with a satin wrap. In the morning unwrap hair for a glamourous silky-finish!

How-To-Use In 2 Easy Steps:
Step 1: Apply a small amount of Nutriment Rx to hands and emulsify. Step 2: Smooth throughout the hair, or apply directly to scalp.

The McBride Guarantee: This product is guaranteed to meet McBride Research Laboratories quality performance standards or your money back."
UPC: 784190347779
EAN: 0784190347779