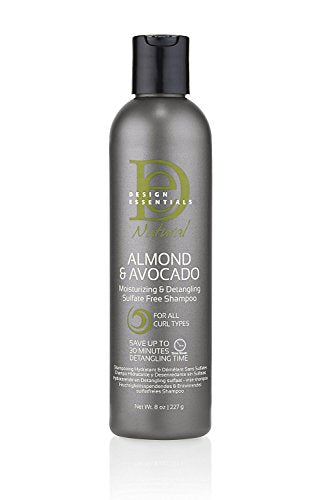 Design Essentials Natural Super Moisturizing & Detangling Sulfate- Free Shampoo- Almond & Avocado Collection 8oz.
Brand: Design Essentials
Features:
GREAT FOR DRY THIRSTY HAIR TEXTURES- Specifically formulated for wavy, curly, coily, and kinky textured hair with dry/brittle to normal and color-treated hair conditions. Also, great on hair extensions and chemically-relaxed textures to revitalize the hairs' natural luster.
SULFATE-FREE FORMULA- Gentle formula contains NO Sulfates, NO Parabens, NO Parraffins, NO Petrolatum, and NO Mineral Oils to promote healthy hair growth. Increases the strength of weak/brittle curls, promotes noticeable body and touchable softness.
MAXIMUM MOISTURE- Natural ingredients like almond and avocado oils provide intense moisture and hydration to penetrate every strand, while helping your hair withstand the damaging environmental factors that pull moisture out of your hair every day.
DETANGLE WITH EASE- Maximum lathering properties save up to 30 minutes in detangling time for long to short, curly to kinky, straight to natural hair textures and lengths. Creates additional slip to allow your fingers to comb through your coils while shampooing.
GREAT FOR THE ENTIRE FAMILY- A definite go-to everyday shampoo for women, men, and kids! Cleanses the hair and scalp by removing dirt and build-up without stripping the hair of its natural oils. Made in the U.S.A.
Release Date: 2015-10-23
Details:
Sulfate-Free Formula: Need we say more? By now, most know that cleansing agents that contain sulfate ingredients are simply too harsh for natural curls. Prompting Design Essentials to create a cleansing solution perfect for all curl types! Our Natural Almond & Avocado Moisturizing & Detangling Sulfate Free Shampoo infused with hydrating Almond and Avocado plus nourishing botanicals not only hydrates, softens, and detangles while cleansing your strands, but is gentle enough to use daily without stripping hair of natural oils.
Save Up To 30 Minutes Detangling Time: How many of us cringe at the tedious task of detangling our coils on "wash day"? Well, cringe no more! With our Almond & Avocado Sulfate Free Shampoo even the curliest hair textures can count on reduced detangling time due to key ingredients like Almond & Avocado which softens, moisturizes, and detangles your hair. Experience a creamy lather, even on your first wash, resulting in each strand feeling soft, manageable, and noticeably hydrated.
NO PARABENS – NO PARAFFIN – NO PETROLATUM – NO MINERAL OIL
How-To-Use In 3 Simple Steps:
Step 1: Wet hair.
Step 2: Apply Almond & Avocado Moisturizing & Detangling Sulfate Free Shampoo and lather. Rinse thoroughly. Repeat as necessary.
Step 3: Follow with Natural Almond & Avocado Moisturizing & Detangling Conditioner.
The McBride Guarantee: This product is guaranteed to meet McBride Research Laboratories quality performance standards or your money back.
UPC: 784190724228
EAN: 0784190724228