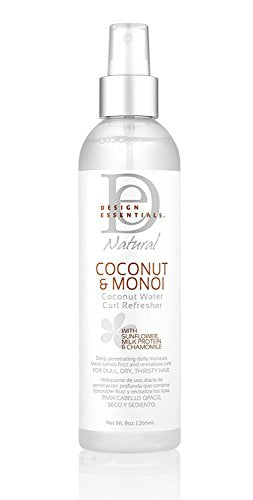 Design Essentials Coconut Water Curl Refresher for Instant Curl Revitalization-Coconut & Monoi Collection, 8oz.
Brand: Design Essentials
Features:
Deep penetrating daily moisture blend provides instant hydration and tames frizz without drying the hair
Lightweight formula revitalizes curls and coils while nourishing every strand with the natural benefits of coconut
Easy to use; great for extending the life of wash and gos and soft hold styles by adding moisture and elasticity
Formulated with Calendula, Horsetail, and Vitamin E to restore over-worked curls
Ideal for dull, dry, thirsty curls; can be used in preparation for natural styling instead of water
Release Date: 2015-10-23
Details:
Quench Overworked Waves, Curls, & Coils: There's nothing worse than when your natural curls decide to go on 'curl-strike" …that moment when no matter what you do to make them redefined, they decide to stay limp and lifeless. If you can relate, don't fret, beat your next 'curl-strike" situation with Design Essentials Coconut & Monoi Coconut Water Curl Refresher! Infused with Sunflower, Milk Protein and Chamomile, this lightweight curl quencher instantly revitalizes coils with our triple hydrating Monoi Moisture Blend. With daily use, thirsty curls are deeply penetrated while taming frizz.
Revitalize Next Day Styles: Extend the life of natural styles without shampooing with our Coconut & Monoi Coconut Water Curl Refresher. Perfect for reworking or revitalizing Day 2 or Day 3 wash and go styles, soft-hold styles, twist-sets, and braid-outs. Here's how – On dry or damp hair, mist lightly and gently re-form curls or twists as necessary. For thicker or coarse hair, follow with Coconut & Monoi Deep Moisture Milk Crème for an additional layer of moisture and protection.
Nourishing Ingredients: Coconut & Monoi Coconut Water Curl Refresher is formulated with lightweight silk proteins and a replenishing blend of active botanicals, including Calendula and Horsetail, plus Vitamin E to restore over-worked curls.
Simple How-To-Use Directions:
On dry hair: Lightly mist. Work through hair from roots to ends for even distribution. Style as desired.
On towel-dried, damp hair: Spray Coconut Curl Refresher liberally throughout. Work through hair from roots to tips to evenly distribute and enhance curl definition.
The McBride Guarantee: This product is guaranteed to meet McBride Research Laboratories quality performance standards or your money back.
UPC: 875408004543
EAN: 0875408004543