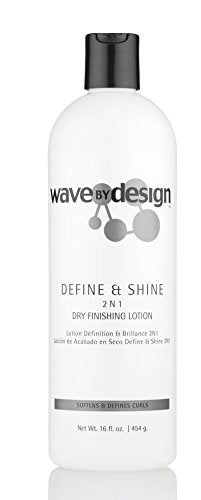 Design Essentials 2-N-1 Dry Finishing Lotion to Restore, Define & Revitalize Waves, Curls, and Texturized Styles -Wave By Design Collection, 16oz.
Brand: Design Essentials
Features:
Revitalizes and refreshes curls and waves imparting body and shine
Moisturizes, conditions, softens and detangles hair (permanent waves, textured styles, natural and dry curls)
Prevents breakage and increases elasticity by lubricating hair shaft without build up
Includes UV and thermal protectants
Emits radiant shine with all-day moisture
Release Date: 2017-02-01
Details:
Rejuvenate Waves, Curls, & Textured Styles: Wave By Design Define & Shine 2-N-1 Dry Finishing Lotion promises to do two important things - RESTORE softness and vitality to hair creating a light, clean, and shiny finish, and REVITALIZE any curl type (permanent waves, textured styles, and natural or dry curls) by imparting body and shine without product build-up.
Top-Seller For A Reason: There's a reason why our Define & Shine 2-N-1 Dry Finishing Lotion has been a top selling product for over 5 years! Created with a 2 in 1 Dual Action Formula, not only does this finishing lotion moisturize and soften waves and curls, but it's packed with nourishing humectants and conditioners to prevent breakage and increase elasticity. Try it for yourself today!
How-To-Use In 4 Easy Steps:
Step 1: Apply Define & Shine 2-N-1 Dry Finishing Lotion into palm of hand and emulsify.
Step 2: Distribute the lotion evenly throughout the hair and style as desired.
Step 3: For extra shine and softness, follow with Mist & Shine Dry Finishing Spray.
Step 4: Reapply both daily as needed.
The McBride Guarantee: This product is guaranteed to meet McBride Research Laboratories quality performance standards or your money back.
UPC: 875408002075
EAN: 0875408002075