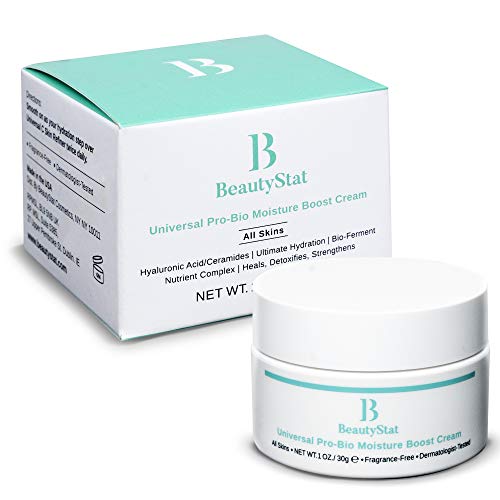 BeautyStat Universal Pro-Bio Moisture Boost Cream for Face - Moisturizer with Anti Aging & Wrinkle Ingredients for Day & Night: Hyaluronic Acid & Pomegranate Sterols - Dermatologist Tested - Created by a 20+ Year Skincare Veteran Cosmetic Chemist
Brand: BeautyStat
Features:
Scientifically Formulated to Provide Moisture & Repair: Your moisturizer should compliment & support the rest of your skin care routine. So we created the best product for just that; this potent formulation is all about providing the lightweight yet powerful moisturization you expect. Our Pro-Bio Moisture Boost Cream is paraben free, fragrance free, cruelty-free & perfected to protect & repair your skin's moisture mantle to minimize premature lines & wrinkles.
Hyaluronic Acid for Smooth, Supple, Hydrated Skin: Our #1 active ingredient, hyaluronic acid binds moisture to the skin to maintain its optimal moisture level during all day (& night) wear. Ladies & gentlemen, no longer fear dry skin! Unlock perfectly quenched, smooth, silky skin. And like every product we make, we're universal because we're safe for all skin types, sensitive, dry, oily or combination. Feel & see the difference to your skin's moisture level with twice a day usage.
Protect, Repair & Seal in Moisture All Day & Night: Our active ingredients list continues on with Ceramides & Pomegranate Sterols to boost skins' moisture mantle & keep aging at bay. Apply on your neck as well as face for optimal anti wrinkle treatment. Your cream acts as an insurance policy for moisture, sealing it in to minimize premature lines. Retain naturally glowing skin while your new Pro-Bio Moisture Boost cream provides light-as-air protection from dry skin, all day long.
Heals & Soothes Your Skin: We take skin care to the next level by adding Ganoderma, an ancient ferment derived from a rare mushroom & Bifida Extract. This is a beneficial probiotic to help heal, soothe & even fight pollution and other aggressors your skin encounters throughout the day. Like a fine, lightweight shield you cannot feel, your face is protected and restored simultaneously, from the daily pollution of the world.
Our Founder is a Globally Recognized, Cosmetic Chemist, with 20+ Years of Experience: When Ron Robinson set out to create the BeautyStat Universal skincare line, he was purely results driven. After years of experience with top brands like Estee Lauder, Revlon & Avon, he wanted to create something groundbreaking. This jar is the result of his drive and commitment to that goal. BeautyStat customer service is also here for you 24/7. Questions? Just shoot us a message. We will answer you!
Details: For Day or Night Shouldn't your face cream be a night cream, a day cream and a wrinkle cream all in one? We thought so. So we made this face moisturizer to do it ALL. 24 hours of quenching, age fighti ...
Package Dimensions: 2.2 x 2.2 x 1.9 inches