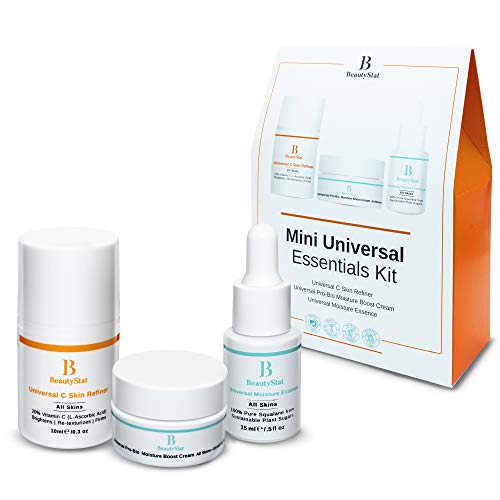 BeautyStat Mini Universal Essentials Skin Care Kit - 3 in 1: Universal C Skin Refiner + Universal Pro Bio Moisture Boost Cream + Universal Moisture Essence | Created by a Veteran Cosmetic Chemist
Brand: BeautyStat
Features:
Illuminate and Hydrate for Truly Younger Looking Skin: We spent years creating the triple-patented, beauty editors & celebrity-favorite: Universal C Skin Refiner with stable Vitamin C. After much success & requests, we formulated two more complementary products to create this groundbreaking skincare kit: The Universal Pro Bio Moisture Boost cream + Universal Moisture Essence. By design this kit rejuvenates for results & protects your skin from environmental pollution & inflammatory damage.
The Most Powerful 3 in 1 Process for Glowing, Flawless Skin: Nothing completes your skincare routine like these 3 steps: (1) Begin with the Universal C Skin Refiner, perfected to illuminate, reduce the look of fine lines, wrinkles, even skin tone, increase firmness & create smoother skin. (2) Apply Universal Pro-Bio Moisture Boost Cream for all-day moisture & hydration. (3) Complete with the Universal Moisture Essence for additional hydrating nourishment to eliminate dryness.
Scientifically Formulated with Ingredients that Produce Results: The Universal C Skin Refiner is triple patented, tested and most importantly, made of 20% L-Ascorbic Acid (the most stable form of vitamin C). Your new Universal Pro-Bio Moisture Boost Cream is light-as-air and employs Hyaluronic Acid to bind moisture to your skin and keep it glowing, flawless & protected all day. Finally, your Universal Moisture Essence is 100% pure Squalane Oil to boost hydration on even the most sensitive skin.
Universal for Every Type of Skin: Universal is in our name for a reason; from sensitive, to dry or combination skin, the diversity of your skincare needs is our top priority, right next to performance! We choose the ingredients for your Mini Universal Essentials Kit to perform safely & effectively, so this entire kit is also fragrance free & cruelty-free. We've even proven & patented the effectiveness of our process in harvesting certain ingredients from the plants they come from.
Our Founder is a Globally Recognized, Cosmetic Chemist with 20+ Years of Experience: When Ron Robinson set out to create BeautyStat's Universal C Skin Refiner, he was results driven. After years of experience with top brands like Estee Lauder, Revlon & Avon, he wanted to create something groundbreaking. Every product we create has been a direct result of his drive & commitment to that goal. BeautyStat customer service is also here for you 24/7. Questions? Shoot us a message. We'll answer you!
Details: We spent years perfecting your new Universal C Skin Refiner, the first step of this kit. The results spoke for themselves; triple patented, fragrance-free, clinically tested, cruelty-free & perfected to illuminate the look of skin for youthful freshness, reduce the look of fine lines, wrinkles, even skin tone, increase firmness & create smoother skin texture - this serum did it all.  Your day & night face routine never made you glow like this before. And We Didn't Stop There… After so much success, we created two more products that when combined will complement each of their abilities to protect and rejuvenate your skin! This BeautyStat kit is everything your skincare routine is missing; a long-lasting serum, moisture & oil to provide ultimate hydration and visible results with daily use. Ingredients that Do Their Job Many Vitamin C serums on the market oxidize (turn brown) after opening. So, we set out to create a pure stable Vitamin C serum that did not change color and we did it. Keeping oxidation at bay in our Universal C Skin Refiner was difficult, but this serum maintains potency from the first drop to the last! The second product is our Universal Pro-Bio Moisture Boost Cream. It's job is to lock in moisture using Hyaluronic Acid. This cream also protects the very health of your face using Ganoderma, an ancient ferment derived from a rare mushroom, as well as Bifida Extract, a beneficial probiotic, that when combined helps heal, detoxify, sooth and fight environmental pollution that can cause aging. The third and final product is made up of one, potent ingredient; the Universal Moisture Essence is 100% Squalane Oil. Natural & packed with hydration, you have options when applying; add 2 to 3 drops over Universal C Skin Refiner or mix with Universal Pro-Bio Boost for a proven hydration boost. Good for even the most sensitive skin.
EAN: 0860001453065
Package Dimensions: 6.7 x 4.9 x 2.7 inches