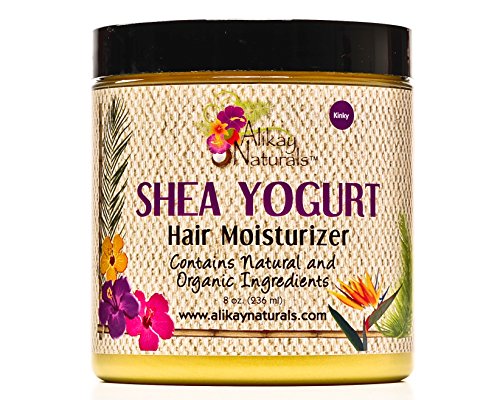 Alikay Naturals - Shea Yogurt Hair Moisturizer 8oz
Brand: Alikay Naturals
Features:
Raw Shea Butter: Emollient properties seals moisture into hair, reduces moisture loss, contains nourishing vitamins and minerals
Argan Oil: Revives dull dry hair, Reduces frizz, Enhances elasticity, Renews luster and shine, helps manageability
Coconut Oil: Rich in fatty acids that Increases hair shine and strength. Binds to hair protein structure to retain hair natural moisture
Details: DRY HAIR? No worries Shea Yogurt is here to SEAL MOISTURE in your hair! Packed with Moisture, moisture and more moisture, this product will leave your hair feeling softer, shinier and more manageable than ever before. Moisture is a MAJOR factor in achieving healthy beautiful hair, dryness leads to breakage, tangles, lack of length retention and makes styling frustrating. Shea Yogurt is especially formulated to keep Kinky textured hair healthy and moisturized. This yummy smelling cream based moisturizer is light and fluffy, so it doesn't cause product build up. It combines the best naturally moisturizing botanicals and oils to give your hair moisture therapy from the inside out. For even MORE amazing moisturizing results use with Lemongrass Leave in Conditioner.
UPC: 784179085685
EAN: 0854143004599