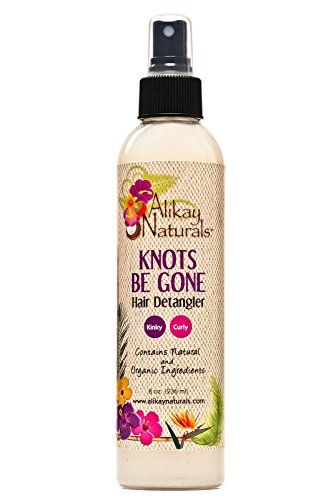 Alikay Naturals - Knots Be Gone Hair Detangler 8oz
Brand: Alikay Naturals
Features:
Marshmallow Root: Amazing detangling ability due to mucinogenic properties which give hair slip, keeps hair soft and works to soothe dry scalp and reduce dandruff
Aloe Vera: Moisturizes and conditions hair and smoothes the hair cuticle by coating it to seal moisture in. Strengthens cortex of damaged hair
Hibiscus Flower: Repairs hair cuticle, provides nutrients and strength to smooth and soften hair, discourages split ends
Details: Scented with calming jasmine, this botanical infused blend cuts down detangling time by giving your hair slip and moisture for easy manipulation to loosen stubborn tangles and knots, by reducing tension on hair during detangling which causes less breakage and hair loss. This lightweight formula will not weigh your hair down. Also works great for babies and kids!