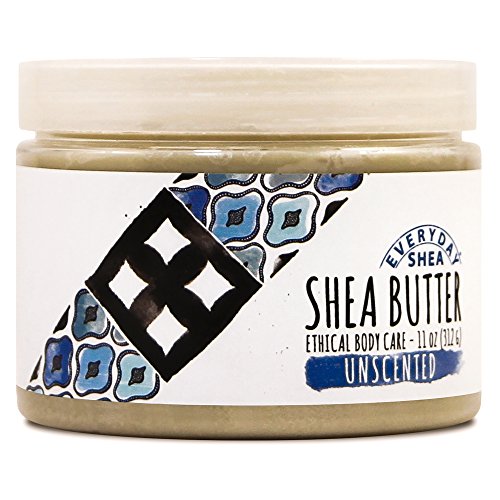 Alaffia - EveryDay Shea - Pure Fair Trade Shea Butter, Unscented, 11 Ounces
Brand: Alaffia
Features:
100% FAIR TRADE: Feel good about how you are getting your products with 100% Certified Fair Trade Ingredients.
PURE AND SIMPLE: Made from pure African unrefined shea butter.
PROTECT WITH FAIR TRADE INGREDIENTS: Deeply moisturizing & protective fatty acids, vitamins, and minerals, leave skin soft & smooth.
NATURALLY UNSCENTED: No added essential oils or scents.
EQUALITY- EMPOWERMENT- BEAUTY: All sales of Alaffia products contribute to empowerment projects to help break the cycle of poverty in Togo.
Legal Disclaimer: Although we strive for your satisfaction through providing consistent products each time you purchase, every Alaffia product is natural and handmade using traditional methods. Due these methods, and the natural, mostly unrefined ingredients, each formula's color and consistency can vary depending on that particular batch. We hope that our customers appreciate our dedication to traditional methods of crafting these products and using the best and most natural ingredients available.
Details: Alaffia's Everyday Shea pure unrefined shea butter is certified fair trade and handmade. It is deeply moisturizing & protective fatty acids, vitamins, and minerals, leave skin'soft and smooth. Equality-Empowerment-Beauty. These are the three principles that Alaffia follows to not only bring customers the best natural, fair trade skin and hair care, but also to help relieve the cycle of poverty in Togo. Alaffia empowers West African communities to become sustainable through the fair trade of indigenous resources. We encourage empowerment through our community projects, our women's cooperatives, and through education and involvement in our local customer communities. We firmly believe that the cooperation of people across the world is an essential part of building sustainability in all communities.
UPC: 187132005452
EAN: 0187132005452