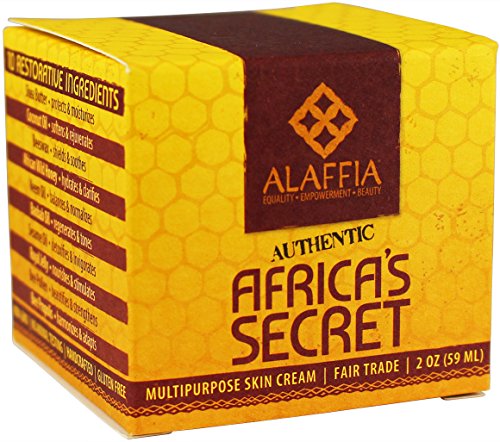 Alaffia - Africa's Secret Multipurpose Skin Cream, 2 Ounces
Brand: Alaffia
Features:
A USEFUL SECRET: Wonderful for dry skin, environmental protection, as a night cream, lip balm, and treating scars and skin blemishes
PURE & SIMPLE: Contains only shea butter, coconut oil, beeswax, African wild honey, neem oil, baobab oil, sesame oil, royal jelly, bee pollen, bee propolis
PURITY PROMISE: Gluten free and beegan, without parabens, sulfates, or dyes
GIVE BACK: Your Alaffia purchase funds empowerment projects helping to break the cycle of poverty
FAIR TRADE: Alaffia has committed to sourcing Certified Fair Trade ingredients
Legal Disclaimer: Although we strive for your satisfaction through providing consistent products each time you purchase, every Alaffia product is natural and handmade using traditional methods. Due these methods, and the natural, mostly unrefined ingredients, each formula's color and consistency can vary depending on that particular batch. We hope that our customers appreciate our dedication to traditional methods of crafting these products and using the best and most natural ingredients available.
Details: Africa's Secret Multipurpose Skin Cream is a great all around moisturizer thanks to the powerful healing properties of its ingredients. It's also ideal for really dry skin, environmental protection, as a night cream and for treating scars and skin discolorations. This cream is a blend of pure, whole ingredients that give your skin the best moisturizing and protective benefits without any added emulsifiers, preservatives, or scents. Alaffia's success is not simply measured by profit. Our success is measured by empowerment. Alaffia empowers West African communities to become sustainable through the fair trade of indigenous resources. We encourage empowerment through our community projects, our women's cooperatives, and through education and involvement in our local customer communities. We firmly believe that the cooperation of people across the world is an essential part of building sustainability in all communities.
UPC: 187132002901
EAN: 0187132002901