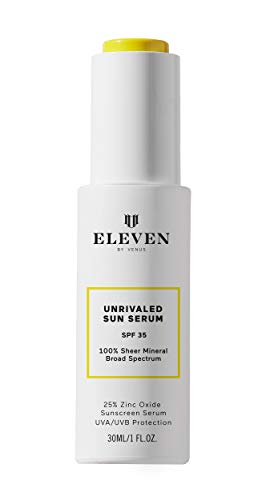 EleVen by Venus Williams - Natural Unrivaled Sun Serum SPF 35 Mineral Sunscreen | Clean, Reef-Safe, Cruelty-Free, Vegan (1 fl oz | 30 ml)
Brand: EleVen by Venus Williams
Features:
A Game-Changing Lightweight Serum That Combines Sun Protection With Silky Hydration - For Daily Use Over Moisturizer Or Under Makeup - Quick Absorption Leaves Skin With A Smooth, Velvety Finish
Clean, Reef-Safe Formula Utilizes Zinc Oxide (25%) To Protect Skin From The Sun's Harmful Rays
Non-Chemical SPF Offers Physical Protection From UVA & UVB Rays
Vegan & Cruelty-Free, Fragrance-Free, Dermatologist-Approved | Clean Beauty Sunscreen
Great For All Skin Types
Details: EleVen by Venus Williams Unrivaled Sun Serum SPF 35 A game-changing lightweight serum that combines sun protection with silky hydration. For daily use over moisturizer or under makeup. Quick absorption leaves skin with a smooth, velvety finish. ✓ The clean, reef-safe formula utilizes Zinc Oxide (25%) to protect skin from the sun's harmful rays using a physical, or mineral, SPF and no chemical SPFs. ✓ Vegan, Paraben-Free, and Cruelty-Free and rooted in natural/naturally-derived ingredients to create a safe & effective Clean Beauty sunscreen. ✓ Made in collaboration with The Sunscreen Company, experts in mineral sunscreen formulation. - 1 fl oz | 30 ml *Should this product be subject to excessive heat or cold for brief periods of time, it will not impact the product's overall efficacy, but it may result in a textural difference. Prolonged exposure to heat may cause a product to spoil or be less effective. We advise you to keep this product at room temperature.
EAN: 0628110645302
Package Dimensions: 6.5 x 4.5 x 2.0 inches