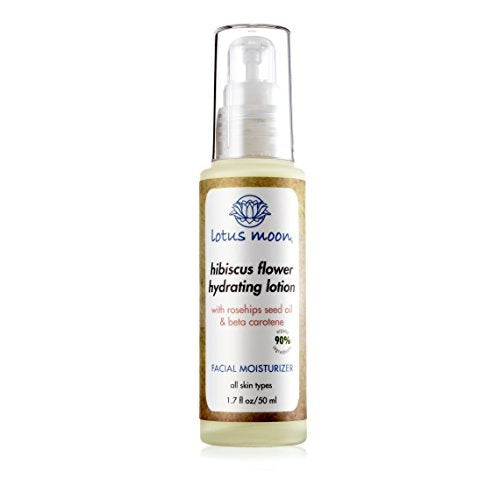 Lotus Moon Hibiscus Flower Hydrating Lotion - 90% organic for all skin types - contains rosehips seed, DMAE, and Rooibos Tea
Brand: Lotus Moon
Features:
Containing the natural occurring substance of DMAE, which has been shown to extend the life of skins' cells creating a tone and firm appearance
90% organic content is a fast-absorbing, lightweight moisturizer to comfort and nurture skin throughout the day.
Soothing coconut and rosehip seed oils calm sensitivities and restore harmony. Vitamin C and hibiscus extract defends against free radical damage.
When active, natural and organic ingredients matter to you, choose Lotus Moon!
MADE IN USA
Publisher: SMB Essentials
Details: Hibiscus Flower Hydrating Lotion is formulated with 100% all natural ingredients and 90% organic content.  This moisturizer has a light and gentle consistency that leaves your skin velvety soft and irresistibly touchable.  Aloe vera along with coconut oil helps to deliver delicious moisture deep into the skin making dry madness disappear and oily skin balanced.  Hibiscus flower extract is a natural source of the antioxidant Vitamin C making this ideal for mature skin types as well.
UPC: 899386000267
EAN: 0899386000267