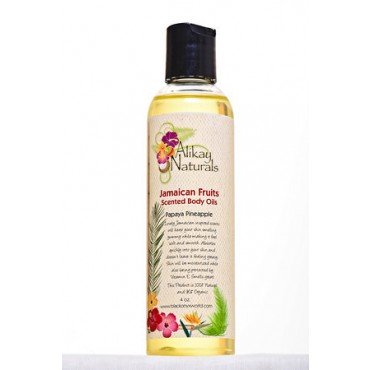 Alikay Naturals - Jamaican Fruits Scented Body Oils- Papaya Pineapple 4oz
Brand: Alikay Naturals
Features:
Coconut Oil Skin moisturizer, antibiotic, nourishes contains properties of anti-aging, anti-wrinkle and anti-oxidants
Sweet Almond Oil Contains healthy fats and proteins to rejuvenate skin, offer sun protection and reduces skin irritation
Apricot Kernel Oil moisturizes, nourishes, and lubricates skin. Soothes minor skin conditions such as eczema, psoriasis, rosacea
Details: Enjoy the lovely Jamaican inspired scents of enticing papaya pineapple blend on your skin. Your skin will smell fabulous while the blend of nourishing apricot kernel, coconut and sweet almond oils leaves your skin feeling soft and smooth. The light oil blend absorbs quickly into your skin without a greasy feeling. Skin will be moisturized and nourished while also being protected by Vitamin E.