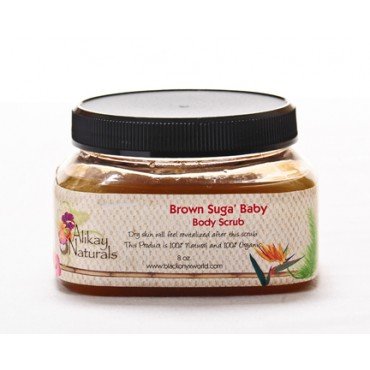 Alikay Naturals - Brown Suga' Baby Body Scrub 8oz
Brand: Alikay Naturals
Features:
Brown Sugar Improves skins ability to retain moisture balance. Cleans skin and tightens pores to help pores appear smaller
Avocado OilHighly concentrated in vitamins, fatty acids and antioxidants that protect and keep skin healthy
Raw Shea Butter Super skin moisturizer, regenerator and healer all in one that helps moisturized skin deep down, protects skin against harsh climate
Details: So sweet and yummy brown sugar naturally exfoliates your skin while moisturizing and nourishing it. Dry skin will feel revitalized after this scrub enriched with essential oils to remove dead skin and reveal your moisturized healthy skin underneath. Indulge your skin with this delicious blend of naturally scented brown sugar and caramel body scrub!