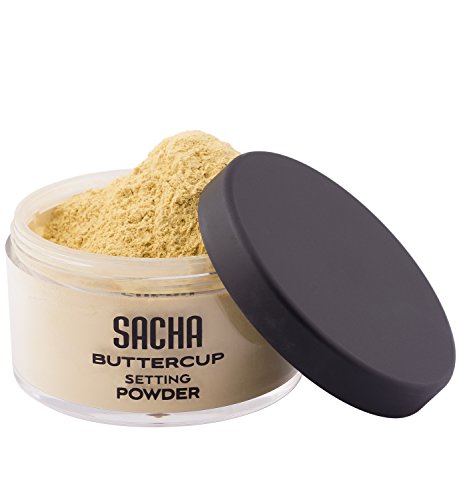 BUTTERCUP POWDER. No ashy flashback in selfies & photos. Flash-friendly loose face powder for Medium to Deep skin tones 1.25 oz
Brand: Sacha Cosmetics
Color: Buttercup
Features:
FLASHBACK-SAFE so you never get a white cast or look ashy in bright lighting, selfies and photos.
LONG-WEARING and 100% OIL FREE, so your stay shine-free for hours.
FINELY-MILLED, fills in fine lines and pores and gives you an incredible AIRBRUSHED FINISH.
Can be used alone or to set your foundation. Ideal for BAKING, HIGHLIGHTING or CONTOURING
Dermatologically-tested, hypoallergenic and won't clog pores. CRUELTY-FREE.
Details: Features
•No flashback so you won't look white or ashy in bright lighting and photos.
•Absorbs oil, reduces shine and keeps your face matte for hours.
•Finely milled, lightweight, delivers a visibly flawless finish, feels comfortable, never looks dry and won't settle into fine lines or cause creasing.
•Use as an all-over face powder or to bake/set your foundation, concealer or highlights.
•Recommended for medium to deep skin tones.

How to avoid makeup "flashback".
In bright lighting during the day or at night when there is flash photography involved, no one wants to be the frosted doughnut in a group photo or in selfies. The dreaded white cast you get in photos is not caused by your camera settings or the lighting but because your makeup is not flashback-safe. Having your face look a different color from your body, is every makeup wearer's nightmare. Thankfully, you can avoid this phenomenon using Sacha Buttercup Powder. It is completely flash-friendly so you never look chalky or ashy regardless of the intensity of the lighting. Buttercup absorbs oil and minimizes shiny areas on your face which can cause "flashback".

How to "bake" your makeup.
•Apply your favorite liquid, cream or cream-to-powder foundation to even out your skin tone.
•Apply and blend a full-coverage concealer under your eyes and other parts of your face that you wish to highlight such as your chin, center of your forehead, the bridge of your nose and under the hollow of your cheeks.
•Use a blending brush, a damp makeup sponge or dry makeup wedge. Apply a thick layer of Buttercup Powder to set your foundation, concealer or highlights.
•Allow the powder to sit for 5-10 minutes then dust away using a powder foundation brush.
•Your makeup is now "set", won't rub off easily and will last several hours longer.
UPC: 763130915773
EAN: 0763130915773