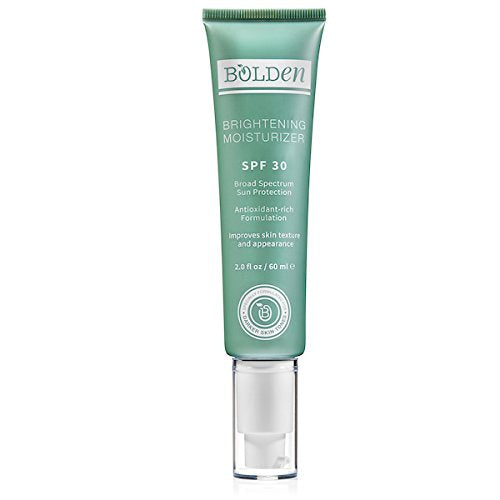 Bolden Brightening Moisturizer SPF 30, Specially Formulated for Darker Skin Tones 2.0 Fl Oz
Description :
Bolden Brightening Moisturizer combines advanced ingredients with broad spectrum sunscreen to visibly improve the look and feel of skin. Nourishing moisturizers and robust antioxidants help restore hydration and radiance while SPF 30 sunscreen guards against UV damage. Vitamin C lies at the heart of our formulation, providing brightening corrective properties and counteracting daily oxidative damage.
Features
FORMULATED FOR DARKER SKIN TONES - Your search for an amazing sunscreen for melanin-rich skin is over. It dries on clear without that annoying chalky off-white or purple residue.

REVEAL BRIGHT AND FRESH SKIN - Whether you have oily, dry, combination, or sensitive skin, this moisturizer will help balance and renew your skin's surface at a cellular level. It will improve your skin firmness, brightness, and tone for a smoother, fresher, more revitalized youthful complexion. It is made without parabens, sulfates, or phthalates that can strip essential natural oils and cause irritation.

THE BENEFITS OF VITAMIN C are amazing - A powerhouse antioxidant known for counteracting daily oxidative damage, brightening skin tone and diminishing signs of sun damage like Dark Spots, Sun Spots, Age Spots, and Hyperpigmentation. Vitamin C is known to boost skin's natural sun protection, refine skin texture and fade the look of fine lines and wrinkles.

POWERFUL RESTORATIVE ANTI AGING FORMULA that will tighten your skin and leave it smooth while reducing wrinkles & fine lines. It will boost collagen, fade sun & age spots.

GREAT UNDER YOUR MAKEUP - Keep your dry skin hydrated and moisturized all day long under your makeup. This nourishing moisturizer with robust antioxidants helps restore hydration and radiance.
Specifications